Facebook reacts to new regulations announced and decides to eliminate the partners that sell targeting audience services for advertisers through the network.
So, the data provided by third-party brokers won't be available anymore for advertisers in the Facebook targeting campaigns.
What will change? The Partner Categories from Facebook advertising campaign page will disappear, meaning that the data from private vendors such as Acxiom, Oracle Data Cloud (Datalogix), Epsilon and Experian won't be used through Facebook anymore. So, both private and public targeting capabilities from Facebook will become obsolete.
This means that behavioral targeting indicators such as purchasing and in-market audiences will not be available for users.
It also includes household income targets, even though Facebook does not disclose the source(s) it uses for this data.
The only data available for targeting on Facebook is an individual source or the data directly connected through the network like: location data, interest data or search history.
"This product enables third-party data providers to offer their targeting directly on Facebook," said Graham Mudd, a product marketing director at Facebook, in a statement. "While this is common industry practice, we believe this step … will help improve people's privacy on Facebook."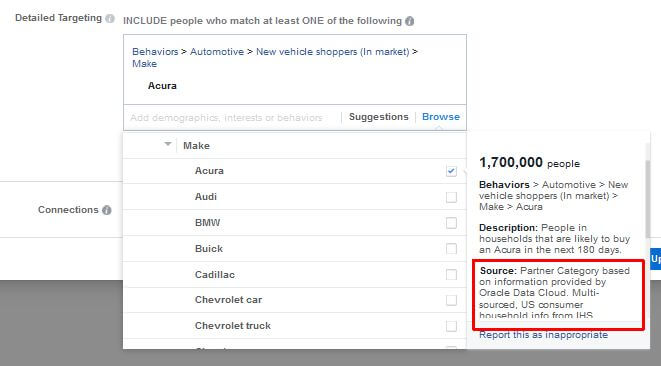 Why is Facebook phasing out data partners?

Even though buying targeting data is a common practice in digital advertising, Facebook applies prevention measures, considering the Cambridge Analytica scandal. So, it cuts the data streams that flows in and out the network, to protect the users.
The other cause of this radical change is GDPR that will go into effect in less than two months from now.
How some advertisers reacted to the new Facebook regulations

The main attributes of campaign targeting from Facebook will no longer be available meaning a return to the beginnings of the network when ad targeting was very poor. The droves of data collected through the network might have been the element that fueled the amazing raise in value.
So, the first consequence would be that marketers will redirect money from Facebook and probably move them to other networks with better audience filters and targeting tools. Another wound for Facebook's budget will be the paused ads until new security filters.
"It's really not surprising that Facebook would limit the use of third-party data, considering the scrutiny the company is under following the Cambridge Analytica scandal. As the demand for transparency increases, Facebook will likely focus on its users to ensure they do not abandon the platform," said Shuman Sahu, Director of Performance Media at digital agency Nina Hale. "Even with limited data available, many advertisers will continue to leverage Facebook and its other properties (Instagram, Messenger), which, combined, offer unmatched scale in the social space."
"As both a champion and critic of Facebook ads for nearly a decade, I can honestly say I'm excited for the next evolution," said Merry Morud, who is Associate Creative Director at digital agency Aimclear and currently embedded at Uber as a paid social contractor.