Amazon's business model is an inspiration for everyone. We're already stating the obvious here.
What helps product pages stand out and spur conversions in this competitive category? Contributor Andrew Waber, from Marketing Land, has analyzed more than 365,000 furniture and home goods product pages on Amazon and got some takeaways that we discovered too and want to share with you.
Good visuals and reviews are the top arguments for which the consumers purchase a product. Those attributes give the users a solid view about the desired product. Content consistency matters as well and has the power of improving the product pages and outcome the competition.
First lesson – good performers are made of reviews, not of ratings
The report took into consideration 3 different ranges of price: $49.99 and under, $50 to $199.99, $200 to $499.99 and $500 and above. After that, the selection was based on "top performer averages" from the top 10 percent in sales count and "bad performer averages" from those in the bottom 10 percent.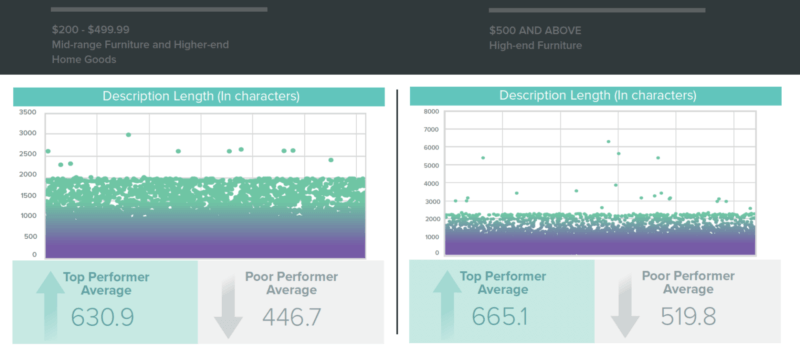 The best performing products from the lowest price category have an average of 752 user reviews. Meanwhile, those ones at the highest price segment - 124 reviews. The average for poor performers never reached 40 at any price level.
Second lesson: describe it by all means
The top performers products from furniture category, for example, have consistent descriptions.
This shows how the consumers are more likely observe, read and research these products, investigate more. Any piece of additional information could be very valuable for the purchase decision.

On the other hand, cheap products don't attire that much attention to details and written descriptions. The consumers are not considering spending so much time on research and content. Here, the reviews are quite important for driving the purchase decision.
Just to keep in mind an important aspect: furniture and home goods in the top 10 percent of sales value have an average of 5 visuals on their pages. This really makes the difference and these products outflank those ones that perform poorly. If we were to choose between images and description, the takeaway of the report is that imagery has more impact on the consumer than long descriptions.
Third lesson: get rid of the bare minim effort in presenting the product
We've just mentioned the importance of being visually meaningful. For new brands that seek exposure opportunity on the marketplace, it's pivotal to understand the importance of the images that describe the product and upload more than the average 5. Improving the visual exposure and quality is a great way to boost the start.