Omnichannel strategy is the answer to unforgettable and flexible customer experience. After all, in any industry how you serve new clients and the ones you already have defines the success of your business.
To increase profits, almost one third of CEOs believe in the importance of digital platforms and touch points, according to 2022 EY US survey.
Yes, you and I are talking about client-oriented experiences using Facebook, YouTube, Amazon, Twitter or company website, smartphone app etc. To these we can add brick-and-mortar store, point of sale.
You already have part of them in your portfolio, but are they all working at the same pace, with the same performance? Are they giving your customers a seamless, smooth experience?
These are legitimate questions. A McKinsey survey shows that 39% of CEOs see that their digital channel alone suffers from "a lack of internal coordination".

Source: mckinsey.com
This problem means a lack of customer analytics across the channels. Moreover, it's about the inability to identify customer across shopping trips.
If you want to cut all these things you need a new strategy: omnichannel.
What Is an Omnichannel Strategy? We Have Examples.
Omnichannel is how you build your business. You put all the channels at the disposal of your customers in such a way that they will miss you if they need something. Moreover, they will prefer you over the competition.
Do you want an example of an omnichannel strategy? Look no further.
Let's say you have already introduced an omnichannel approach. A client searches for a pair of running shoes on your website. Afterwards the person sees the pair in one of your physical stores. Tries the shoes but postpones the acquisition.
At the exit from the mall, he or she receives on the phone a discount code. Moreover, he or she sees ads for running shoes on different social media accounts.
Finally, the person buys the desired product by ordering it on your smartphone app.
And that's the meaning of putting the customer at the center of all these channels.
The truth is, and you know it, technology is changing the client experience. Your customers want to have different tools to enrich this experience. This means discovering new products, finding out their characteristics, making an order, giving feedback, and in the long run building trust and loyalty with you.
What Means to Setup an Omnichannel Strategy? Seven Examples that You Can Use.
Now you know that omnichannel approach is a great thing for your marketing, retailing, advertising or servicing business. But what does it mean for your clients and for your company or agency?
Let me help you with seven examples.
For instance, you can make the store offer great customer experience. This leads to loyalty from your client. For example, omnichannel strategy means to let the client try a product in the shop while he or she has it on an online list prepared for buying.
The second example of the omnichannel approach. We talked about technology. Use it in your store. For example, place tablets, kiosks connected to Wi-Fi. Customers will use them to find information they need, to search for products and reviews on your online catalog. This will help them to decide what to buy from you.
We have another example for your omnichannel strategy. Make a change to your store. Don't just sell there, use the space also as a pick-up point for online orders. If a customer orders something on your app or your website, give him or her the possibility to pick up the item from your brick-and-mortar store.
Moreover, you can diversify the ways the clients can receive the product they bought. This means having more delivery solutions: at the client's door, collecting the item from a pick–up point etc. Of course, to these we can add the possibility of receiving the product in a shorter period of time.
We have a fifth example of omnichannel strategy. Make use of the info that your client is giving to you. If customers allow you to know their location, when they are near your store, send them coupons and offers on their mobile phone. This way you'll let them know about what you prepared for them.
A sixth example refers to the presence of your business. Be present on as many channels as possible. Use social media, third-party websites, and virtual marketplaces to make a pleasant purchase trip for clients. This will also help you to expand from local or regional level to the international level with many more opportunities.
Your clients' acquisition history has vital importance. Use the information. Your website, smartphone app, discount offers, and payment methods all give you the opportunity to find who your clients are, what they want, and how they buy. This will help you to aim for what omnichannel strategy is all about - a seamless, smooth experience. This will build your customers' loyalty to your brand, company or agency.
What's in It For You with Implementing Omnichannel Strategy? Three Reasons and Some Data
First, you offer a much better experience to your clients. Happy customers bring better results for the company, startup or agency you are managing. You'll have a better reach because of the way they can access all your enterprise's channels. So, note that: a better experience for your clients.
Secondly, omnichannel gives your clients flexibility. They can change the channels without being affected by the quality of the service. The customers' satisfaction offers you in time their loyalty and the possibility for new clients. It's all about flexibility.
Last but not least, omnichannel offers you the possibility to have feedback and data that shows you how the clients interacted and what their expectations are. This means an efficient tool in your hands if you want to develop different targeted marketing campaigns, for example. You will know what your clients need and want.
A survey from Salesforce.com shows that "69% of customers believe companies should offer new ways to get existing products and services".
According to the same source, "76% of customers expect consistent interactions across departments, yet 54% say it generally feels like sales, service, and marketing teams don't share information."
New ways to get your products or services and consistent experience for your clients, these are points aimed by the omnichannel approach.
To have all these advantages on your side you need a tool. Don't worry, you are not the only one who is searching for one. We are talking about headless architecture or headless CMS.
Headless Content Management System (CMS) – Tool for Omnichannel Strategy in a Digital World
If you have a multitude of channels at your disposal doesn't mean you are getting 100% from them. In fact, "while CEOs want to champion and support digital initiatives, 75% of them do not know how to move forward or make optimal use of their existing assets and capabilities."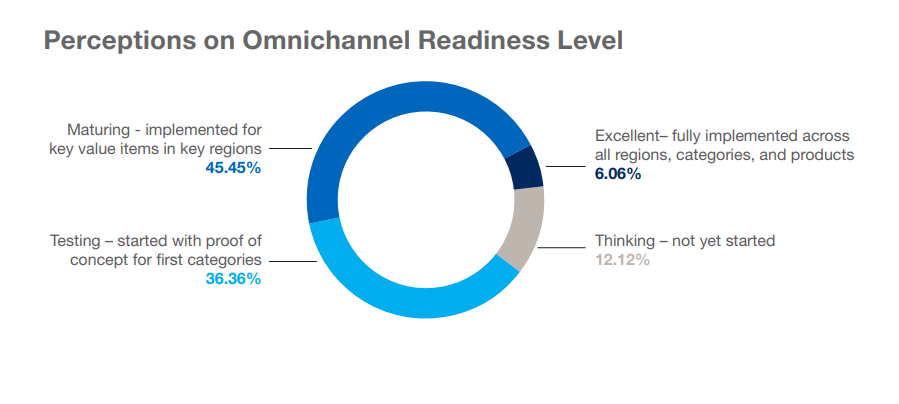 Source: mckinsey.com
So, what is a headless architecture for your omnichannel strategy?
It's like building a big place where you put all the data about what you offer to your clients. Let's call it back-end (creation and storage zone).
But how do your clients reach your back–end area?
You built for them a special zone called front-end (interface for the customers). And these two, back-end and front-end, are separated. Why? Because in this way you will have the tools to set up omnichannel: a seamless, smooth experience for your customer.
In fact, the content that you put in the back is accessible via a special interface as raw data. Any device or application can pull this data and display it as customers want. They can use a smartphone, desktop computer, or wearable. This possibility is offered by the front-end.
Do you need an example of headless architecture? We can give one.
Please remember about your client who wanted to buy a pair of running shoes. The person visited your website, used your smartphone app, went to your brick-and-mortar store. He or she even received online discounts.
All things worked together because all these channels were tuned to the customer's desire. This optimal setup is poot in place by headless architecture.
Look at headless as a Content Management Systems. This what exactly it is. Here's a picture of it compared to a classical CMS.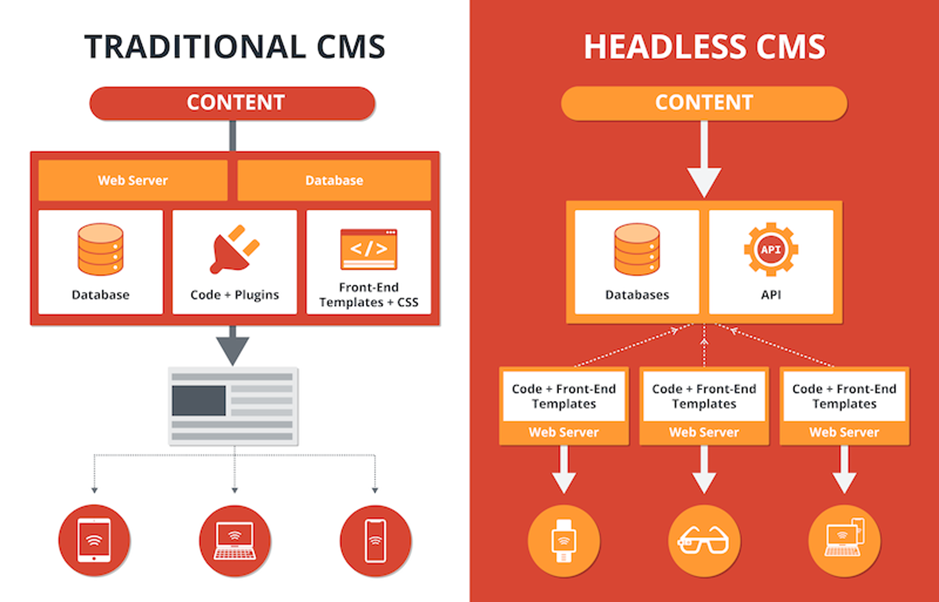 What Are the Five Main Benefits of Headless Architecture?
I'm sure you're asking yourself what are the main advantages of headless CMS. There are five such benefits.
1. First of all, the Headless CMS is an "omnichannel" solution. It can deliver content to any type of front-end that is connected to the internet, and it can also "push and receive" content to any and from any system/device. In short, you are able to offer to your customer all the things we talked about.
Moreover, you know that clients change their buying habits over time. New technologies bring new channels, so all these require agility and quick response from the company, or agency. Headless architecture gives you both. You can follow your customers' new demands.
This means you can modify your ad campaign to clients' orientation.
2. When we talk about digital and online always you have to have in mind security. With headless CMS, your clients' data is safe.
Same goes for all your omnichannel approach. How is this possible? Because the front-end (website/mobile app/etc.) cannot make changes directly to the database (back-end). This is the second advantage.
3. Every part of headless architecture can be improved any time and in any way you want. For example, a front-end can be modified/rebuilt with no effect on the rest of the structure.
Let's say you notice that customers accessing your website have difficulties in finding one function. With headless, you make modifications on your website without having to work on your back-end zone, or your front-end app. This is the customization advantage that headless offers.
4. Headless CMS gives you speed and that's what we are all looking for. You don't want your customer to stay with smartphone in one hand and wait for the page to load. You want to be the first that makes the best offer for the product searched and this offer to get to your client.
5. Last but not least headless architecture is easy to use. You don't need deep knowledge to get the best out of it. So, a custom CMS is easy to use by marketing people or non-technical editors.
As a conclusion, with headless you can make your customer's experience more personal, directed at him or her.
This means a tool for your omnichannel retail, marketing commerce approach. You will be able to design new features to meet client's desires and necessities. The personalized Customer's experience that you'll provide will give you the upper hand over the competition.

We at Land of the Web can help yout company achieve all these things. Embrace the omnichannel strategy and we will design for your company a headless arhitecture to gain new customers and to build loyalty with them. In this way you'll beat the competition.