Drupal has the answers to the new challenges that come ahead with a personalized experienced for the customer. In fact, Drupal is more than an open-sources CMS, it is a digital experience platform (DXP).
Gartner defines DXP concept as an "integrated set of core technologies that support the composition, management, delivery and optimization of contextualized digital experiences."
CMS platforms are the solution to manage and share content with customers using different digital channels, but as we mentioned above, the content can be delivered in a personalized manner.
This means understanding customer behavior, his needs and be able to tailor a customized experience that could be related to company products or services, responding in the same time to questions like how, when and where they want it. This is where DXP intervenes.
Digital experience platforms are made of functionalities and metrics that work together to understand customers and offer companies the detailed information in order for them to create new content or to improve the existing one. DXP solutions has in its core CMS functionalities but it includes much more than that.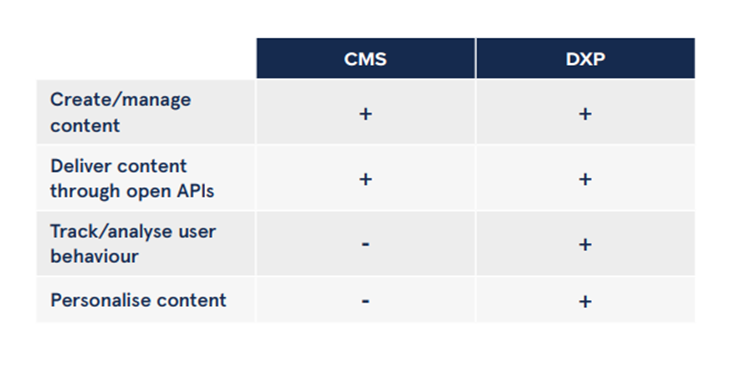 Source: altis-dxp.com
This is where Drupal knocks out other open-sources and custom-made CMS. Drupal is flexible and has a modular architecture. These characteristics make it capable of touching different purposes: analytics, management, different degrees of frontend/backend customizations or even dashboard customizations.
If things get complicated, let's write an analogy.
Imagine the foundation of a building. This foundation allows you to build anything on it. And that's because it is very versatile. You can put different types of structures, make connections between them and make changes in order to get the best building that matches your company's objectives. Get it? The foundation is Drupal's architecture, and the structures are Drupal's modules and all other native functions. In this way Drupal accomodates a DXP architecture .
Types of DXP
There are two types of DXP:
An open DXP gives the possibility to choose the best solutions for your project. Moreover, this means that you can implement products as your DXP evolves. And this is where we put Drupal. You can build a customized DXP on Drupal architecture.
A closed DXP is a complete solution that comes from a single provider. There is no possibility to integrate other third-party tools. A closed DXP has the best results only in its own universe which has certain tools and functions.
When to use DXP
DXP is the answer when we are talking about personalized customer experience. Nevertheless, companies' platforms don't have the capability to unveil how clients' experiences evolve when surfing on their company's channels. DXP takes this step further by harmonizing the connections of the technologies involved and pushes technically to an omnichannel strategy.
Omnichannel strategies require the company's presence on different channels but also recall a seamless customer experience. DXP can collect data from all channels offering the marketing department the tool to deploy the vision of their business.